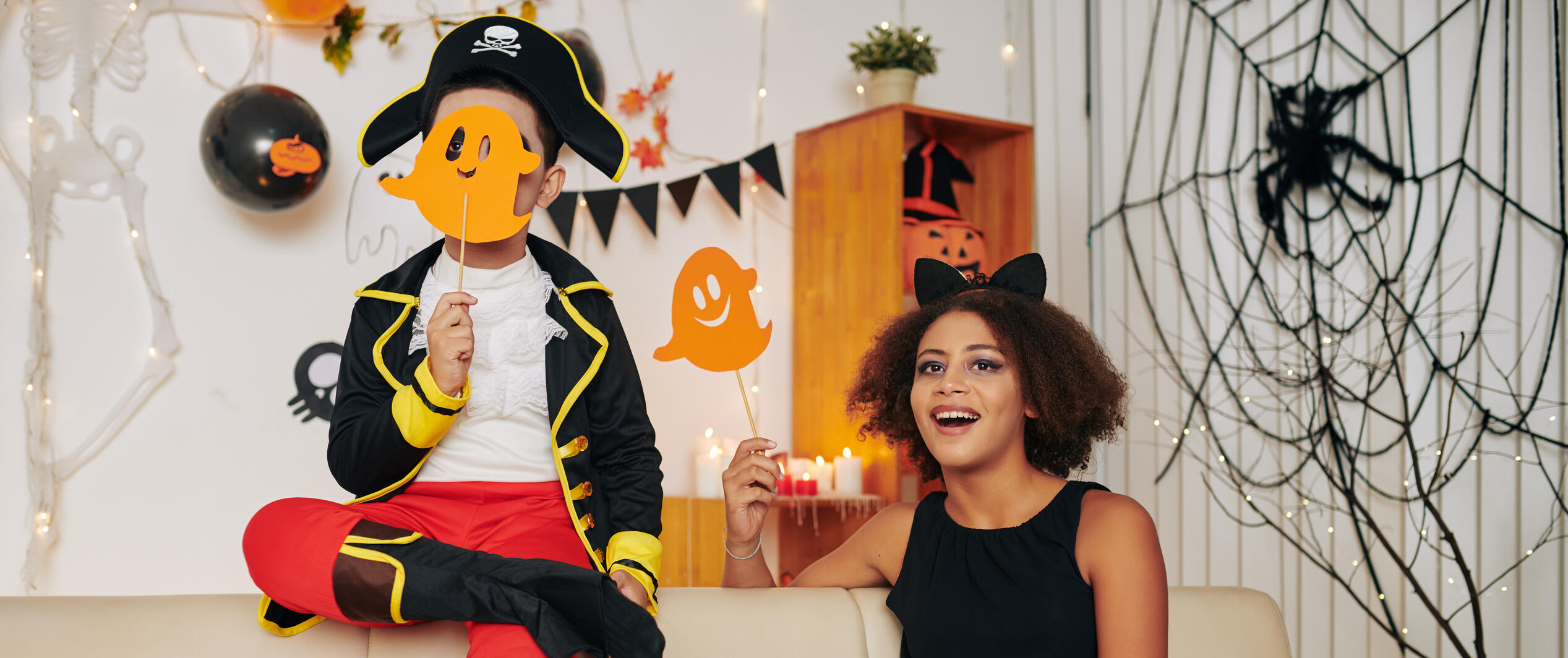 We have conjured up some Halloween fun using paper, cardboard and a lot of imagination!
The best part, paper and cardboard products can be recycled (up to 7x!). So feel good about using paper products to create a spook-tacular Halloween. And don't forget to recycle the paper materials after the holiday.
Get crafty
There is no end to the Halloween crafts and decorations you can make with paper. String garlands of paper cut outs up and down the halls - think strands of white ghosts, orange pumpkins and black bats. Or, instead of carving jack-o-lanterns, have the family participate in a paper pumpkin decorating contest. Create a template to cut out the pumpkin and have each family member decorate them by coloring them in or gluing bits of paper on them. You can also print off our Halloween-themed coloring page for a little humor.
Put a new spin on the face mask
Instead of putting together a costume from head to toe, concentrate on characters whose heads are the main attraction and create masks out of paper and cardboard boxes – think lions, doctors, robots, witches. Really the only limit is your imagination. And don't forget to let your pets in on the fun!
Have a movie night
Have a spooky movie night with kid friendly Halloween movies like Hocus Pocus or Goosebumps and set up the living room like a movie theater or, if the weather is nice, outside in the yard. Create a spooky concession stand by placing boxed candies and cardboard tubs of popcorn on a table. Don't have room to make a stand? No problem! You can create individual concession trays for treats exactly like they have in the movie theaters. Fill them with a drink, hotdog, popcorn and even a candy box. Depending on the number of treats included, the boxes can range in size from small, like shoe boxes, to large, like a copy paper box top.
Go on a Halloween hunt
Have a family Halloween scavenger hunt at home and have the children search for candy. Take a tip from another holiday, Easter. Instead of eggs, create Halloween party poppers to hunt for. Gather cardboard tubes (like toilet paper or cut up paper towel tubes) and fill with some sweet treats and wrap with orange and black tissue paper.
Organize a Halloween themed scavenger hunt
Create a scavenger hunt with scary and spooky creatures and characters to find. Print out images or create construction paper cutouts for neighbors to hang in their windows, doors or dangle from trees.  There is no lack of creatures to hunt - witches on brooms, black cats, spiders, spider webs, jack-o-lanterns, ghosts, skeletons, skulls, gravestones and zombies.
Halloween game night
Make it a game night! In addition to board games, create Bingo cards and instead of numbers include images of pumpkins, cats, bats and more. Sweeten the game and use candy corn or another sweet treat as your bingo chips.
Share a spooky story
Gather round the "campfire" for some scary stories. Leading up to the holiday, have each family member write out a scary story to share and scare with on Halloween night. Want to mix it up? Swap stories with each other to hear how someone else might tell your tale.
Turn this trick into a treat and create a few new holiday traditions for the family. Happy Halloween!