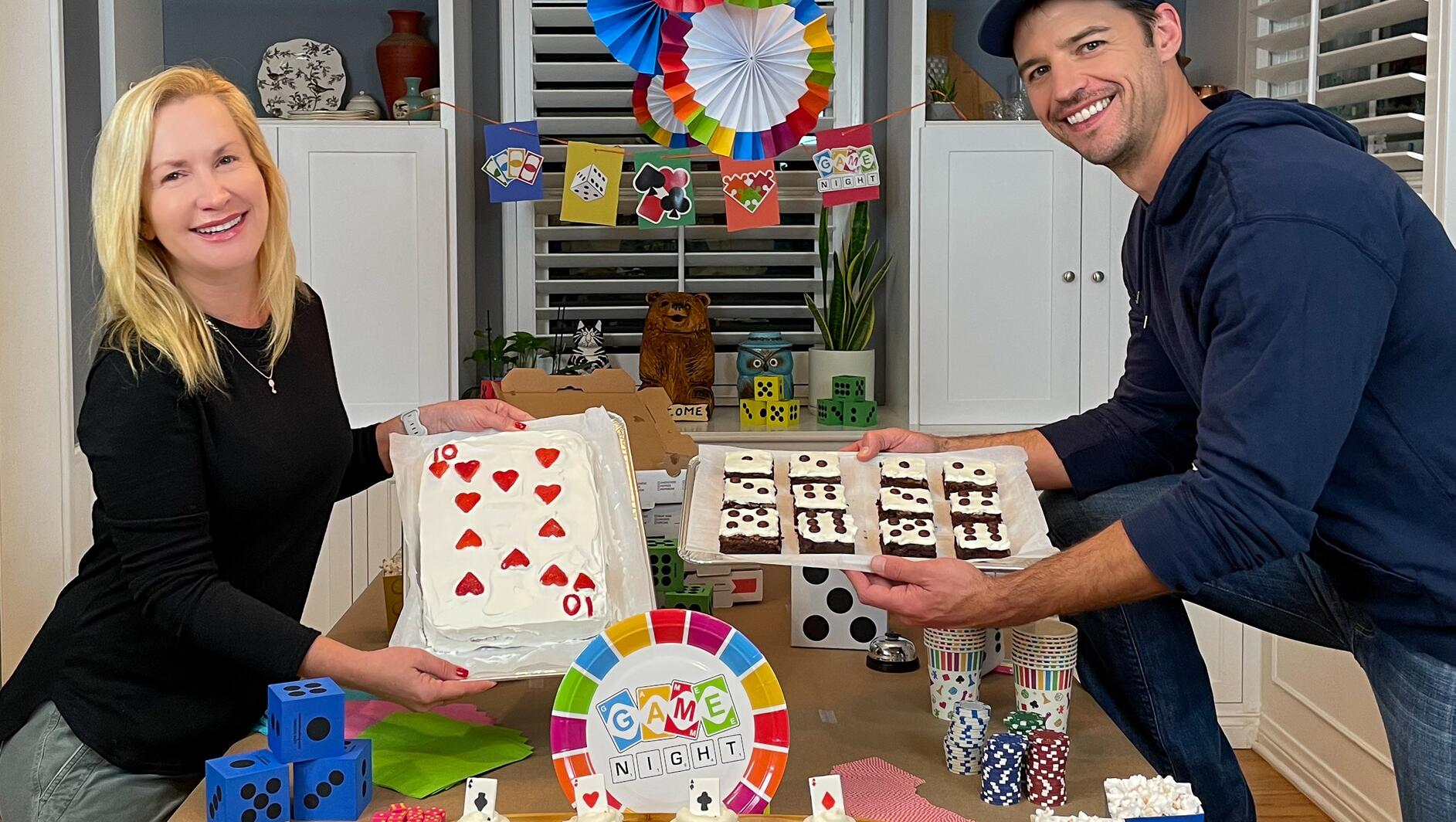 Want to have a great time? Throw a game day or game night party. Want to have an even better time? Make sure it's sustainable! We partnered with Baking with Josh and Ange to share how you can incorporate sustainably sourced paper and cardboard into your next party that will certainly result in some raucous rollicking and a whole lot of recycling. You may remember these celebrities--Angela was on The Office where she was a member of the Party Planning Committee (PPC) and Josh had roles on Blackout and General Hospital. In their Game Night episode, Josh is baking up some game-themed desserts, like dice brownies, and Angela is decorating with fun, recyclable paper products. We think the PPC would approve!
If you're inspired to plan your own game night, see our party ideas below:
Decide on the perfect theme: Whether playing board games and cards or viewing a sporting event or award show, there are endless versions of game days and nights to enjoy.
Invite friends and family: Have fun with the invitations. Customize your invites to the event you are having. Create a sports ticket stub invitation for a sports game viewing party, a movie ticket stub for a movie night, a trivia card for a night of board games and charades or, if it is an award show, hand deliver the envelope please.
Play some games obviously: Games are key to game days and game nights. If your game night is watching a sports game, you can create your own tailored bingo cards using game predictions or common phrases the announcers may say. You can even make your own games out of paper and cardboard.
Set the mood: Hang up a paper banner and streamers in bright colors for the theme of the night. If you are hosting a football party, decorate the table with a paper football field to place a snack stadium and sweets. Watching the an award show? Include a step and repeat with a cardboard back drop. Having a movie night? Set up a concession stand out of cardboard boxes.
Set the table: Paper tablecloths, plates, bowls and cups make the perfect presentation when it comes to presenting your game night treats. And depending on the food you serve; it may already come in paper-based packaging. In 2021, pizza was #5 on Uber Eats' list of top cuisine orders. It's a staple for any game day party, and it's a good thing pizza boxes are made to be recycled.
Sending the party home: There are a lot of sweet and savory treats on hand for a game night. And when planning, it is always better to have too much food than not enough. That usually means leftovers. Send leftovers and party treats home with guests in paper bags and paper to-go boxes.
Cleaning up: Before the party, create a recycle center next to your trash by reusing a large cardboard shipping box. On the box, tape a list of what should go in the box. If you are unsure about what can be recycled, you can find information here.
From invites, food containers and decorations to homemade puzzles, game boards and playing cards, paper and cardboard make the perfect building blocks for a good time.