Turn this holiday season into a homemade holiday and create new festive traditions with paper and cardboard.
Build individual Advent calendars: Count down the days until you can open your gifts with a DIY Advent calendar. Round up cardboard such as paper towel or toilet paper tubes and build a countdown house to Christmas. Fill each tube with lots of sweets and holiday treats. Or, grab a cardboard box and create individual slots to fill with individually boxed treats. Find directions here.
Craft homemade ornaments: Every year millions of people purchase Christmas ornaments to commemorate the year. Why not take that tradition and bring it home, as in homemade? Get together with your family and have each member create an ornament of their own from cardboard and paper. There are myriad sites that give you great ideas on crafting a new yearly tradition. You can find some to reflect everyone's tastes here and here. Oh, and don't forget the garland!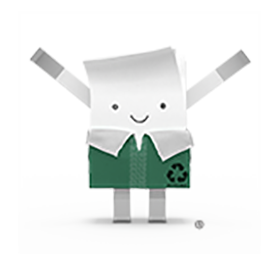 Don't forget these holiday printouts!
Download these featured templates
Bring home the perfect Christmas tree: Make it a family tradition to pick a live Christmas tree each year. From selecting the perfect tree to decorating it with your homemade ornaments, you can feel good about choosing a real tree because they are biodegradable and can be recycled and reused once the holidays are over. Visit the Christmas Tree Promotion Board to find tips on how to take care of your tree. And before the Christmas gifts are wrapped and placed under the tree, get tips on how to successfully hide presents before Christmas morning.
Have a holiday movie night: Start an annual holiday movie night with family-friendly films, setting up the living room like a movie theater. Create a festive concession stand by placing boxed candies and cardboard tubs of popcorn with paper cups filled with eggnog or hot cocoa. Snuggle up for a fun night.
Create a magical Christmas town: Christmas villages are a traditional Christmas decoration often made from wood or ceramic. But why not customize your own personal Christmas village with paper or cardboard. Start the tradition by fashioning your own home and then add to the village each year with new buildings, gardens and places that symbolize milestones in your year as a family. Don't forget to decorate them with all the holiday trimmings!
Deliver the holidays in a box: If you can't celebrate the holidays with friends and family this year, you can still bring some holiday cheer to their doorsteps. Create a unique gift box using our ideas for the sweet-tooths, plant-lovers or wine connoisseurs in your life. Be sure to add a handwritten note or a fun pop-up card. Check out these holiday-themed coloring pages for the little ones! 
Cap off Christmas dinner with a cracker: Begin a new tradition of making Christmas crackers. Easily created with cardboard and gift wrap, crackers can be filled with different treats that include sweets, paper crowns as well as jokes and riddles written out on small pieces of paper. Pass them out after dinner and keep the holiday spirit and fun going well into the night.
As for after the holiday season, don't forget to recycle and/or repurpose all those boxes. Here are some easy ideas to reuse those gift and shipping boxes all year round!
Make the most of this year with the loved ones by crafting a memorable new tradition with a little cardboard, a little paper and a whole lot of love.