Neighborhood scavenger hunts are still popular with families as kids play and learn at home now more than ever. Having fun, spotting birds, squirrels and even bears on their walks. Granted they are all drawings that are safely displayed behind neighbors' windows!
But what about seeing the birds, squirrels, bears and other forest animals in their natural habitats like forests and woodlands? Thanks to sustainable forestry practices, real animals are safe and sound in their homes as well. In fact, according to the U.S. Forest Service, there are 3.2 million trees planted daily in the U.S.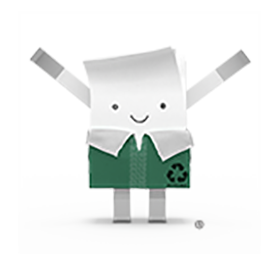 Download the wildlife coloring pages!
Download these featured templates
Sustaining forests is key to the planet's survival. They sustain life by providing much needed oxygen and absorb carbon dioxide from our atmosphere. They supply water, produce essential food and, according to the Food and Agriculture Organization of the United Nations, they are home to 80% of plants and animals in the world. And, who tends to the forests and cares about their growth and stability? One industry at the forefront of forest sustainability is paper and cardboard manufacturing for every day, important products, we all use and need.
The increase in the number of trees in the nation's forests and woodlands creates additional habitats for the abundant wildlife that are dependent on forests. Did you know that close to 75% of all birds make their homes in forests? More forestland means more homes for birds.
And it is not just the increase of trees that helps nurture wildlife, but also the stewardship and care of those trees. Through sustainable forestry, many species don't just survive but thrive. For example, the American Forest Foundation (AFF) and U.S. Fish and Wildlife Service (USFWS) partnered to improve the gopher tortoise habitat and learn more about the species. The joint effort improved 1,445 acres of habitat and completed species surveys on 1,195 acres of family land.
To learn more about how foresters care for their forests, watch the Faces of the Forest series that puts human faces to the work involved in sustainable forests that their industry relies on.
So have your own neighborhood scavenger hunt with these six downloadable images of the wildlife that are protected and provided for in sustainable forests and know that through sustainable forestry, real wildlife will continue to thrive.
Learn more about Forestry, as well as the added benefits and solutions from our other industry associations on our Association Partners page.
View Association Partners