Due to the global pandemic not as many of us will be gathering around friend's and family's tables this Thanksgiving. The Center for Disease Control (CDC) is recommending small dinners with only people in your household. For extended family, it should be a virtual Thanksgiving. And while the number of people around our table this year may be less in number it will not lessen what we are thankful for. So, substitute the number of guests with an increased focus on giving thanks with a few meaningful additions to your holiday tablescape. And all you need is some cardboard and paper.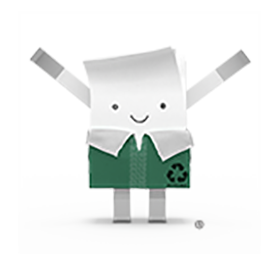 Don't forget your printouts!
Download these featured templates
Place cards
Yes, there is still a need for place cards at the table this year even if there are no formal seating arrangements required. Place a Thanksgiving card at the place setting of each member of your family to let them know how thankful you are for their place in your life. After all, giving thanks in note form is not just for those who give you presents. They are also for those whose presence in your life makes you thankful. So pen a handwritten note and place each heartfelt appreciation for those who populate your table year-round.
Centerpieces
Thanksgiving is a holiday and of course you want a festive centerpiece on the table for all to admire. But this year, with a smaller table think smaller pieces scattered around the table. Think a tablescape of paper turkeys, pumpkins and leaves. Include an empty bowl on the table with some pens and have everyone write what they are grateful for big and small on one of the paper leaves. Save the leaves for dessert and read them while enjoying some pumpkin pie.
If you want a centerpiece that stands out, think about a gratitude tree. Collect a few branches from outside and place them in a vase. Decorate the branches with paper acorns and leaves. Throughout the day family members can add their thanks on an individual leaf and hang it on the tree. Remove the tree for dinner but bring the sweet gratitude back for dessert.
Expand the children's table
Admit it, after years of dreaming about making it to the adult table, you secretly wish you could go back to the children's table. Why not make this the year to make that dream come true. Forget the fancy linens and cover the table in paper! Adorn the table with crayons and cardboard placemats. Play games like tic tac toe or hangman or a Thanksgiving version of Pictionary by drawing what you are most thankful for and have your fellow dinner guests guess what it is. You can even add these coloring page menus to the table to occupy your little helpers while they wait for the food to be ready.
Share the love
Thanksgiving dinners are meals of abundance, and there is no need to scale down. Share your meal with friends and family in a socially distanced way by dropping off leftovers of the turkey, stuffing and all the trimmings. After all, isn't one of the best parts of Thanksgiving the turkey sandwich you make the next day? And share the sweetness of the holiday with a slice or two of pie. Just package them in to-go boxes with festive labels and drop off with friends and family and keep the Thanksgiving spirit alive. As a reminder, be sure to have all leftovers refrigerated within two hours and consumed within four days.
Even though there may be fewer people at your Thanksgiving table this year, it does not mean giving less thanks for the people in our lives. It just makes more room for us to display our gratitude, thanks to a little paper and cardboard.