Blinding spotlights, wall-size video screens and amped-out rhythms pulsating through oversized speakers are all trademarks of a concert. But so are discarded plastic food and drink containers, overflowing garbage bags and foam coolers, which explain why ecological sustainability has become a show-stopping concern for some musicians and their fans.
As a result, performers, festivals and even concert venues are working to make their shows eco-friendlier, adding compost and recycling bins and even manually sorting through debris for discards that should be recycled as well as replacing some non-recyclable products with paper ones.
Consumers, including music fans, are trying to be more environmentally responsible, and get in on the action as well.
Here's a look at some of the paper goods that venues can use to balance music lovers' desire for live performances with the goal of shrinking their environmental footprint:
Cardboard recycling bins
Paper food containers, cups and Tetra Pak cartons
Cardboard coolers
Cardboard tents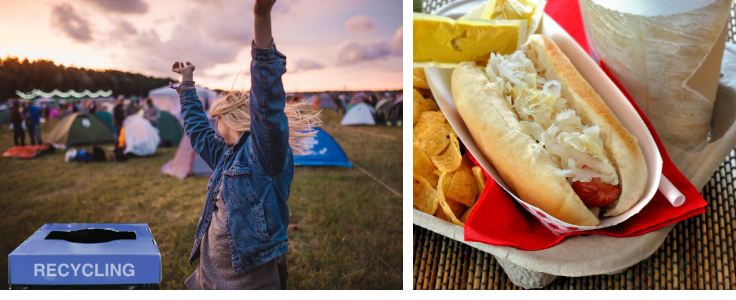 Cardboard recycling bins
An obvious first step toward making concerts more sustainable is setting up recycling bins. Choose bins made of carboard, and not only might they stand out better from plastic or metal garbage containers, but they'll be recyclable themselves. It's a win-win. The Environmental Protection Agency suggests arranging recycling bins strategically, focusing on high-traffic areas and places with high waste volumes such as concession stands, restrooms, and entrances and exits.
Paper food containers, cups and Tetra Pak cartons
Using paper containers for concessions – both food and drink – gives venues the option of recycling or composting everything once fans have satisfied their hunger. Two British music festivals reported gathering more than 400,000 paper cups for recycling after events in 2017. Paper goods are just as useful for concertgoers, too, if an event allows you to bring snacks from home. Recyclable or composting options are available for everything from pizza boxes to paper-based serving containers like the ones used for hot dogs. Some snacks and drinks, including boxed water and wine, are also sold in Tetra Pak cartons, which are largely made of paper and may be recyclable.
Cardboard coolers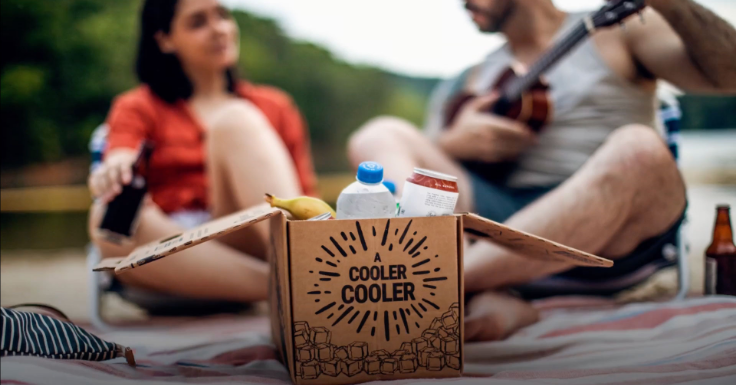 A number of companies have developed biodegradable paper-based coolers to carry food and drinks to concerts and festivals, providing a sustainable alternative to disposable foam cartons that eventually become landfill fodder after an occasional pit stop as roadside or campground litter. These earth-friendly cardboard coolers, some made by brands you're already familiar with like Brrr Box and Igloo, are easy to find online or at big box retailers and convenience stores. They're sturdier than they may appear, capable of holding enough ice to keep your snacks cool and fresh for several hours and some can keep water for several days without leaking. And once worn out completely, it and other cardboard coolers may be recycled or composted.
These earth-friendly cardboard coolers are sturdier than they appear,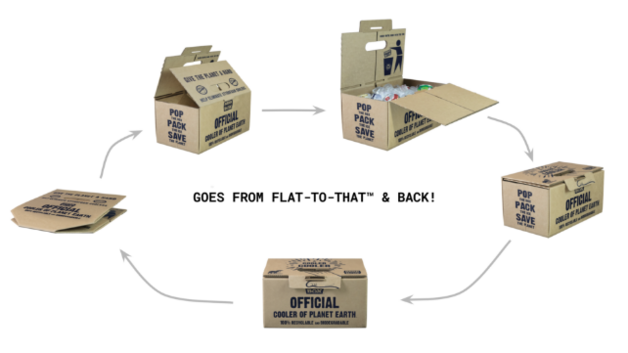 These earth-friendly cardboard coolers are sturdier than they appear,
And highly portable: It can be packed flat, making it easy to store in a car or garage until needed.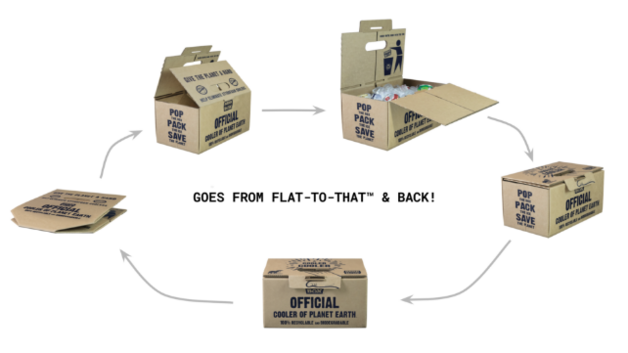 Cardboard tents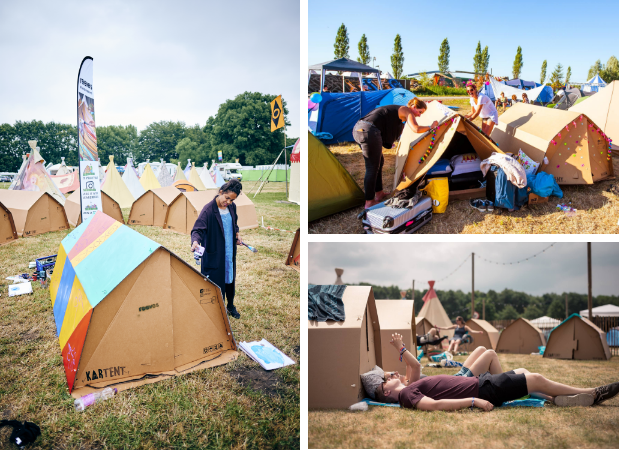 Getting an idea of how much can be done with cardboard? The possibilities are even broader than you think.
One sustainable option, now used at outdoor events from Europe to the U.S., is a cardboard tent made by Dutch company, KarTent.
The two-person tents, if available, can be purchased through the concert venue, have a small back window and additional rainflaps to keep festivalgoers' feet dry if rain falls while they sleep.
"We should look beyond the common applications of materials and boundaries that we know," says Wout Kommer, KarTent's co-founder. "We took a material suitable for packaging and gave a whole new meaning to it, and who knows what more is possible with cardboard?"
Everyone can feel good knowing that paper-based products and packaging are made from a sustainable, renewable resource—trees—and can be made into new products up to seven times when recycled.