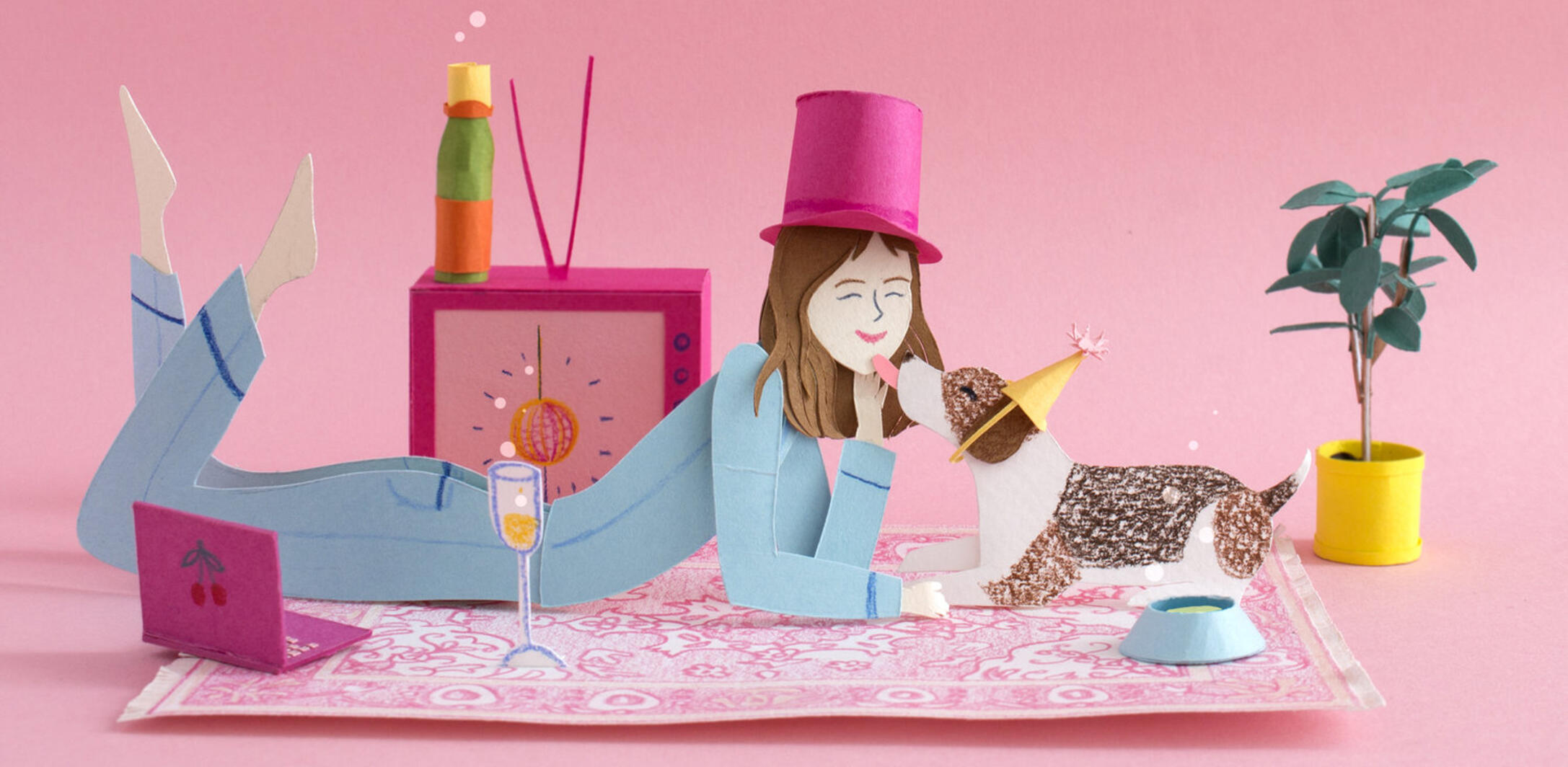 Lorraine Nam is an Illustrator based in Brooklyn, New York. She uses fun and colorful paper as her primary medium. She has worked with clients such as Facebook, Racked and Lufthansa and is co-founder of the artist studio visit blog #FFFFFF Walls.
Q: Here's a big one - or a simple one! - depending on how you look at it: Why paper? How did you start your paper journey?
A: I've loved paper all my life. When I was young, I was obsessed with origami and when I wasn't drawing, I was reading books of all kinds. I eventually went to art school where I became interested with bookbinding and creating artist books. I even interned at the Center for Book Arts where I learned how to make my own paste and saw firsthand, the process of putting together a single edition of an artist book.
While in school, I made an artist book where each page was cut out and when you saw all the layered pages together, it created an image. After that project, I realized I enjoyed creating illustrations through cut paper than making the actual book. I switched direction and started creating images out of cutting into one sheet of paper.
One year, I went on a trip to Panama and was inspired by all the local crafts and beautiful colors there. After that trip, I just started experimenting with making 3-dimensional paper objects. The first paper objects were awkward and funny looking but I had so much fun! It quickly took over and became my medium of choice. After 4 years working in this style, I can say that I'm still interested and learning in this medium.
Q: Your work covers a range of subjects, styles and even dimensions - what's your favorite way to use paper in a project? Do you have a favorite type of paper?
A: I love being able to tell a story. While I enjoy making these individual paper objects, my main goal is to tell a story through the imagery. I started bringing in more drawing elements onto the paper and I really like how it adds another layer to the work.
I enjoy experimenting and using all kinds of paper. I do gravitate towards flat cardstock. It's easy to work with, easy to glue and provides a nice blank canvas to do whatever with. I do have lots of specialty papers like wood paper and glitter paper that I'll bring out for special projects!
Q: The GIFs you create really underscore how paper art lends itself well to animation, not much unlike claymation. Would you ever do any larger scale animation work?
A: I would love to work on gifs in a larger scale! I love making illustrations that move and seeing how something static like paper can start to look elegant with movement.
Q: A lot of your work makes use of bright, bold colors. What inspires your color choices?
A: I started using bright colors after that trip to Panama and fell in love with it! I love the summertime and after creating cut paper pieces using only one color, I loved being able to create such colorful images. Right now, I'm trying to strike the right balance although I have a tendency to use a lot of pink.
Q: Who are some of your favorite paper artists?
A: Rob Ryan does amazing work and is able to convey such beautiful emotions through his imagery. In terms of 3-dimensional paper, Makerie Studio creates such lovely paper displays. Their work is so whimsical, nostalgic, and just plain beautiful.
Q: Your cut paper illustrations are beautifully complex. From inception to execution, how long does a cut paper project take?
A: It does take a bit longer than a traditional illustration project. It really depends on the project! I've had projects that take as short as 3 days and as long as 4 weeks.
Q: Where do you look for inspiration when you have a creative block?
A: I know that when I'm feeling stuck, I need to get out of my studio or apartment. I try and take advantage of New York City and go to museums or even just walk around. The fresh perspective will trigger ideas and get me excited to work on something new.
Q: How could an everyday person use paper as a means to be creative?
A: I think anyone can use paper to be creative! It's the most accessible medium and is something everyone has used in their lifetime at some point. If drawing on paper is too intimidating, try cutting into it or folding it! There are so many things you can do with paper.
Photos/Artwork provided by Lorraine Nam