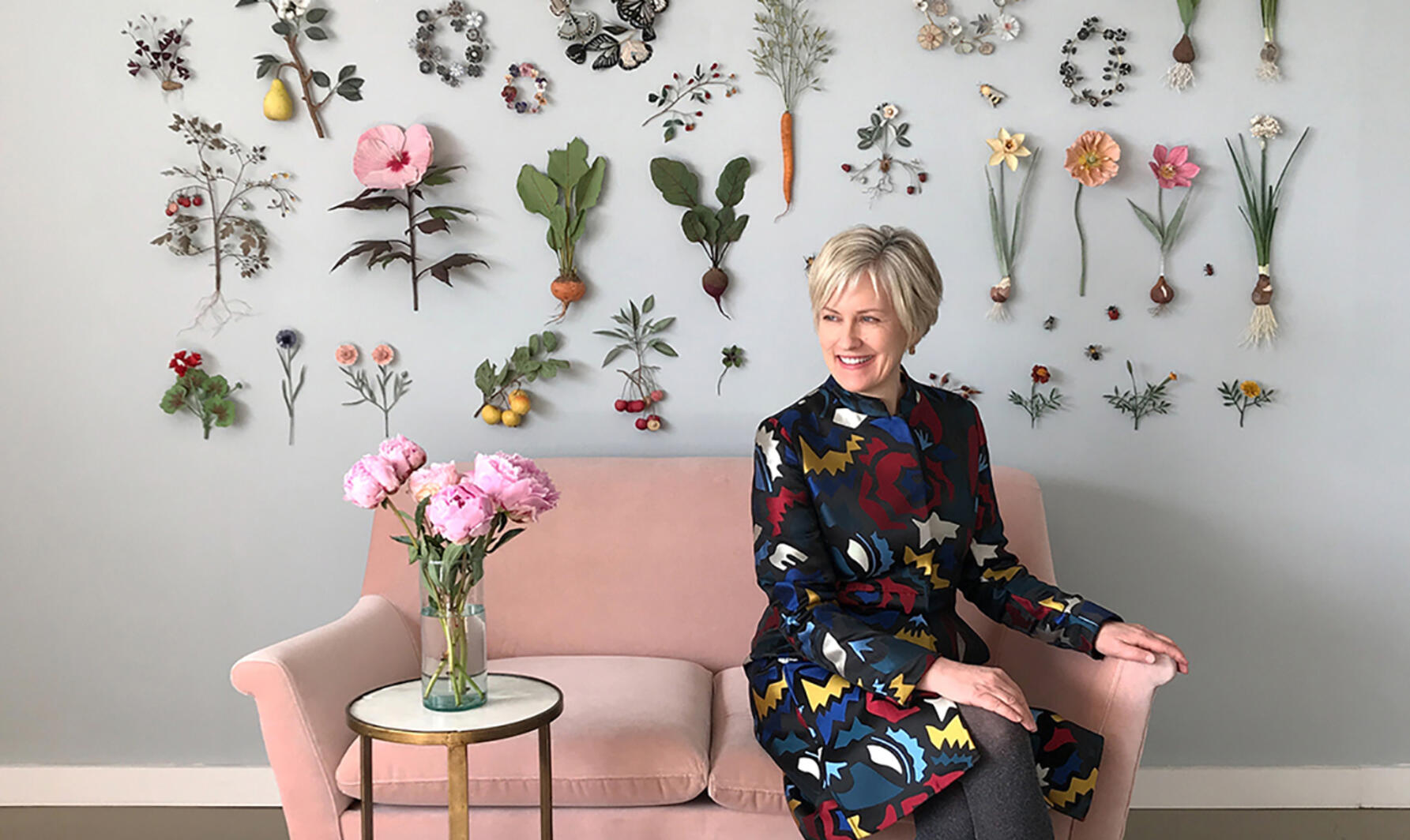 Ann Wood has worked fulltime as an artist for the last 30 years, making her home in Minnesota with her husband and fellow artist Dean Lucker. Their joint site, woodlucker.com features both their individual and joint creations. Over the last several years, among her creations, Wood has created a collection of what, at first, appears to be a curated collection of natural botanicals. However, it really is an expertly crafted collection of paper art. A scroll through Wood's Instagram feed is reminiscent of a stroll through the woods, filled with paper flora, insects and foods. 
How Life Unfolds spoke with the artist about her art work with paper.
Your background is in various mediums, like mixed media, sculpture and wood carvings. What lead you to work with paper?
I showed on Instagram some miniature plants that I had made for one of my husband's sculptures and I laid them out in a flat lay and another artist mentioned they were beautiful and that I had a real knack with making those.
And so, you began your work on paper botanicals?
I started with a feather and that was one of the first things I made, and it sort of took off from there. Then I moved to making some butterflies and my response to them was strong. I had seen other people online working in paper. So that was the initial beginning and then I started branching out into other insects, plants and foods.
What is it that you like about paper as a medium?
The reason I like paper is because it is inexpensive and accessible, you can buy it everywhere and it is very mailable based on the weight of the paper. I work with anywhere from tissue paper to almost a cardstock. I still use mixed media, but paper itself is so clean to work with.
Is there any particular style of paper you prefer?
I just go to an art store and I will buy various handmade papers. I have a collection of them in flat files and if ever I need something to curl a certain way or if I need something to be really still, I have it. There is a lot of variants in the papers that I use.
You have done feathers and butterflies, botanicals and food…any direction you are going that is a natural evolution from what you have been doing?
Not really. Right now, I am working on a giant botanical wall made up of smaller pieces that I am building. I have 130 pieces now and I hope to build it out to 200 objects that are either found or grow in the region that I live.
Where can people go to see your art other than Instagram?
At this point, I have people from Instagram that come to the studio. I have framed pieces for sale at my studio, not online. The botanical wall that I am working on I hope to show in context of a fine art museum in the next few years.