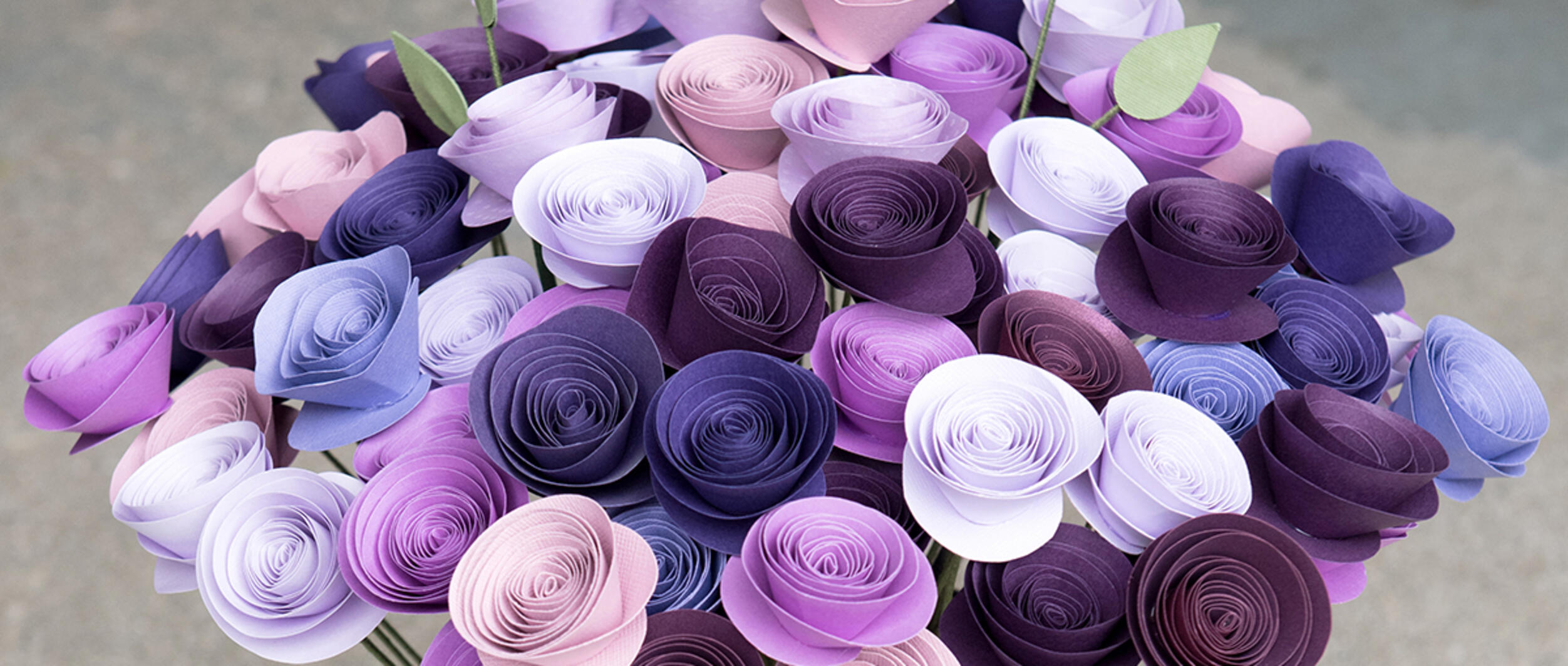 Photo courtesy of Natalie Rose Creations.
Responsible for 2 out of every 3 new jobs in the United States, small businesses play a large role in the American economy.[1] In honor small businesses, two such entrepreneurs shared the role paper plays in their creations and their day-to-day operations.
Who are they?
Michelle Savage got the itch to "make more" and begin Natalie Rose Creations in 2013 after creating well-received paper roses for a bird-themed birthday party for her daughter, Natalie Rose.[2] Savage sells paper flowers and gifts on Etsy and through arts and crafts shows.
Aaron Behnk of Aaron Behnk Creations became obsessed with paper-making as a student at Columbus College of Art & Design.[3] He opened his Etsy shop in 2015 and later his own studio, where he creates paper products like customized stationery, journals and downloadable patterns for printing.
Here's what they had to say:
On choosing paper as a medium ...
"Paper was just so accessible—you can go to Michaels or any big-box store and there are so many colors and patterns available, and it was pretty inexpensive. I would buy a 12-by-12 sheet, cut it into smaller pieces and get a lot of flowers out of one sheet of paper." — Savage
On paper as a platform for business inspiration ...
"I'm a big note taker, and I have Post-it notes and lists all over the place. Constantly, I'll see color combinations or something that really inspires me. I have a list of things I want to make. It helps to have something fresh to make ... it's neat to list something new, to keep it fresh for me." — Savage
On protecting merchandise with paper and packaging …
"You can put a lot of pressure on a stack of paper, so it's pretty robust. Once sandwiched into cardboard and wrapped tightly, it's not going anywhere. Then I always try to have some sort of waterproof thing around it. My priority is to make sure [the merchandise] is going to be safe. I think about that [school] project where you drop the egg from a certain height and try to protect it, making sure it doesn't break." — Behnk
On making a memorable presentation with paper packaging …
"I fold tissue paper and line the box with it. Then I use some on the bottom of the box as padding, so it looks more like a gift. I put the sticker on top to make it look cute." — Savage
"I'll create a lot of paper scraps and strips of paper. I'll use those as my packaging material, and it looks really nice." — Behnk
On paper as an added personal touch …
"I have business cards and had been writing handwritten thank-you cards, but my volume online on Etsy has exploded. In the last couple months, I made postcards with this little handwritten-like [type font] and I jot a little note on it because I want it to feel personal still." — Savage
[2]

Personal interview with Michelle Savage, 4.18.19. All quotes from Savage from that interview.

[3]

Personal interview with Aaron Behnk, 4.19.19. All quotes from Behnk from that interview.