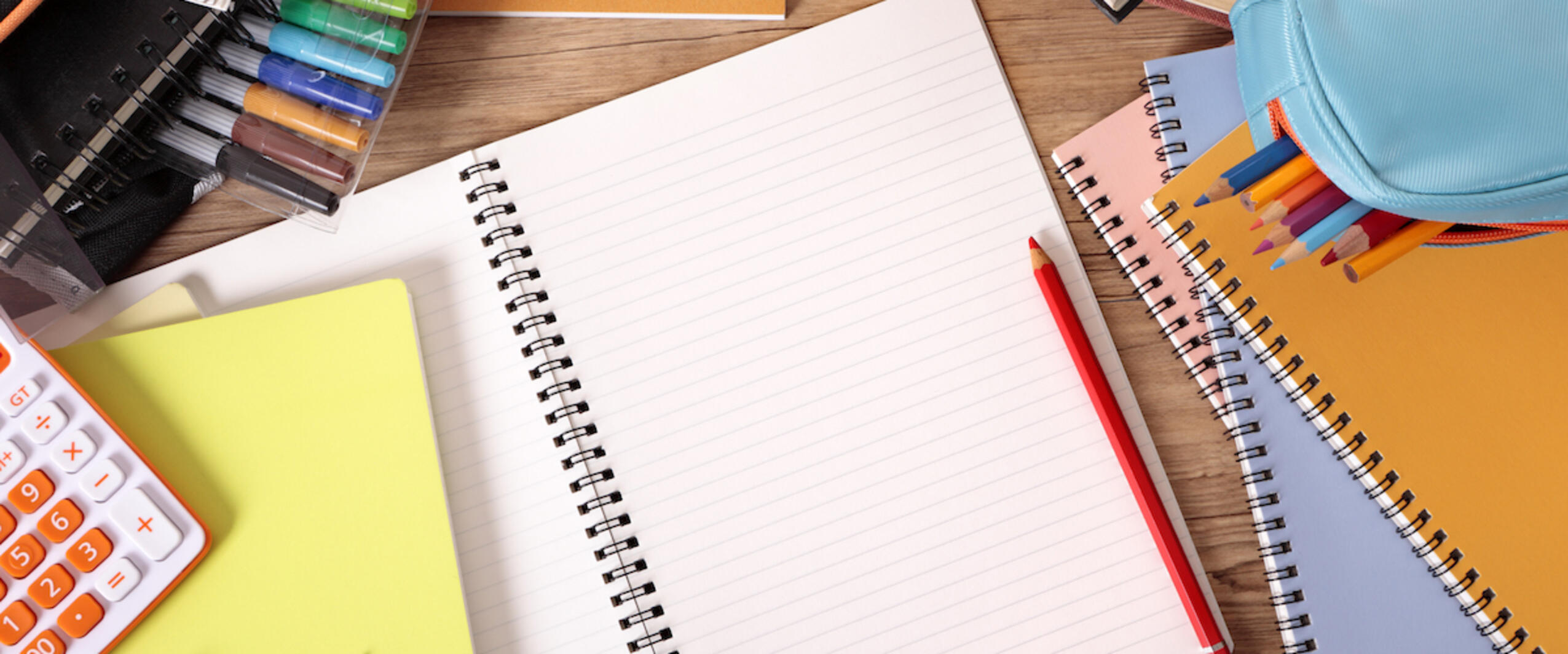 When they're not chipping away at their summer reading list or picking the perfect first-day-of-school outfit, students need to stock up on school supplies. School supplies lists cover the basics, but they leave off plenty of items that students can use to review lessons and do homework outside of the classroom. These are the paper supplies students should have at their desks when the school year starts.
1. Planner
Students keep track of more than classroom numbers and locker combinations. With homework, extracurriculars and group projects, managing a schedule can be a job in itself. That's why every student should start the new school year with a planner. Depending on what they need, they can find planners that help them organize tasks for the month, week, day or all of the above. By writing down all their commitments and assignments in one place, they'll never be able to say they forgot a big deadline again.
2. Notebook
If students are having trouble retaining information, it helps to write it down. That's why in addition to having notebooks for writing in class, students should keep at least one notebook at home to rewrite the notes they took during the day. Whether it's a spiral notebook or a legal notepad, all they need is a book of blank pages to start studying.
3. Sticky page markers
Sticky page markers are an invaluable study tool. When reviewing a textbook for an exam, or reading a novel for English class, students can use sticky markers to indicate the sections they want to come back to later without disrupting their work flow. They come in different colors, so if students are really feeling organized, they can color-code the content they're marking. And unlike highlighters, the paper peels right off without ruining the page.
4.  Index cards
Even in today's digital world, index cards are irreplaceable study tools. Not only are they easily accessible and a snap to sort, organize and store, students can use them to jot down quick notes, or use them as flash cards when studying with a partner. (Some authors have even used them to map out their books, allowing them to get the plot in place before committing it to paper.) If students have mastered the subjects on some cards but not others, they can sort the cards to focus just on what they need to memorize. Students with a stack of index cards in their desk drawer will surely find several uses for them during the school year.
5. Poster boards
Most back-to-school lists don't include the supplies students will need to make future class projects. Physical displays like poster boards and trifolds are still staples of many class presentations. Instead of waiting until the night before a project is due to run out and buy these items, students should keep some at home. That way they can spend more time on the actual project and less time sourcing the materials.
6. Easel pads
Easel pads are commonly used by teachers in the classroom, but they're useful tools for students to have as well. When working with other students on group projects, the large sheets of paper can be used to brainstorm ideas and help motivate decisions toward a shared goal. The flip-chart format is also a good stand-in for flash cards when studying in a large group.
7. Wall calendar
When planning out the week, it can help to have a wall calendar to look at first thing in the morning. Students can hang wall calendars above their desk at home and use it to visualize their schedule. Some wall calendars are the size of posters, so even if they forget to check their pocket planner, a deadline written in red ink on their wall will be hard to ignore.
8. Reference books
Many students have access to essential reference books at school, but it helps to have such texts available at home as well. A thesaurus and dictionary can be useful tools when studying English or writing an essay—especially if a student wants to avoid going on the internet until their homework is complete.
No matter the season, paper is an essential study aid that can help students reach their full potential.