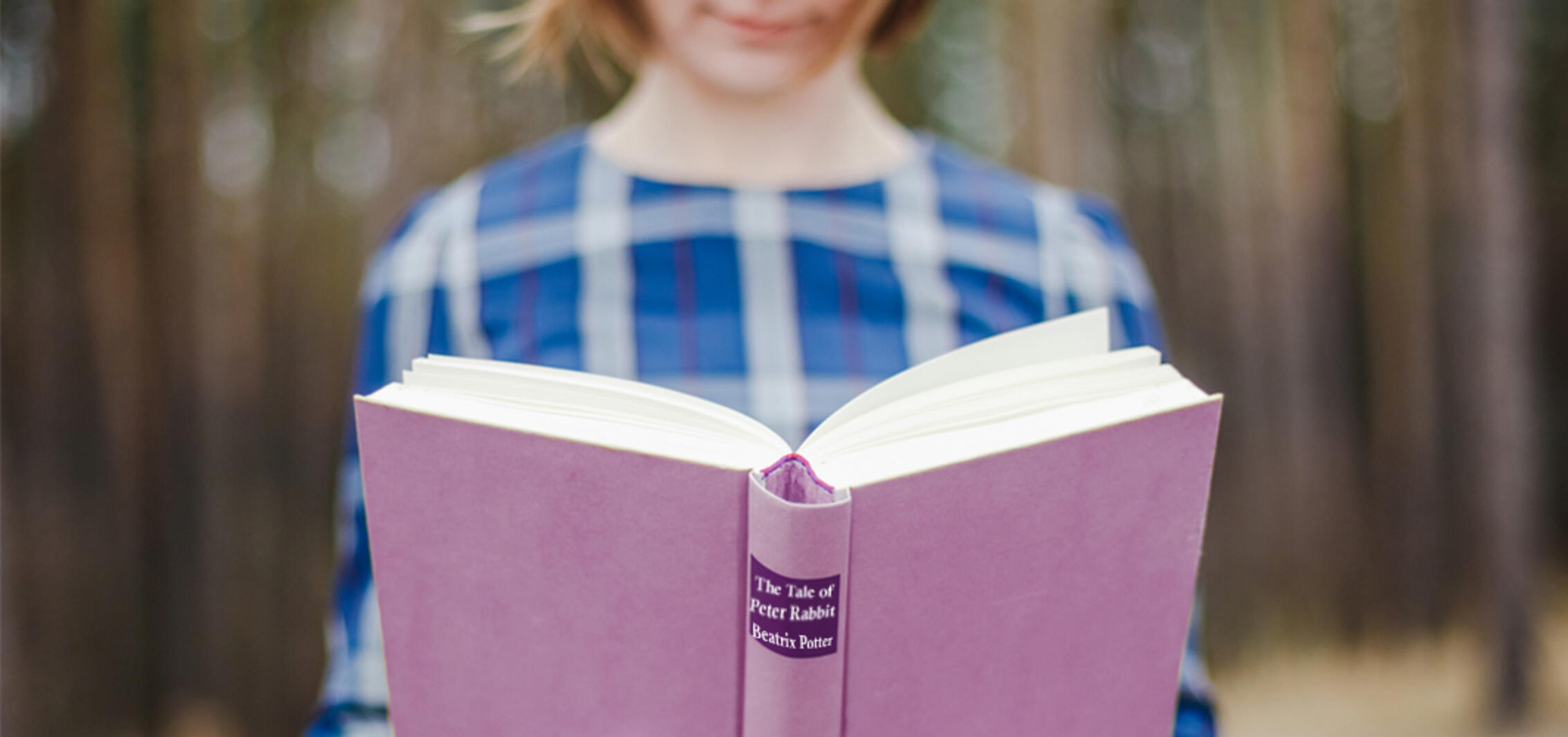 Even today, more than 75 years after her death on December 22, 1943, celebrated children's author Beatrix Potter's beautifully illustrated tales—featuring animals and landscapes inspired by her beloved home in England's Lake District—are still hugely popular. Below are 15 fascinating facts about The Tale of Peter Rabbit author.
1. Beatrix wasn't Potter's real first name.
Potter was born in London on July 28, 1866 and was actually christened Helen after her mother, but was known by her more unusual middle name: Beatrix.
2. The Tale of Peter Rabbit was inspired by a letter.
Potter's most famous book, The Tale of Peter Rabbit, was inspired by an illustrated letter Potter wrote to Noel, the son of her former governess, Annie, in 1893. She later asked to borrow the letter back and copied the pictures and story, which she then adapted to create the much-loved tale.
3. Peter Rabbit and her friends were partly based on Beatrix Potter's own pets.
Peter was modeled on Potter's own pet rabbit, Peter Piper—a cherished bunny who Potter frequently sketched and took for walks on a leash. Potter's first pet rabbit, Benjamin Bouncer, was the inspiration for Benjamin Bunny, Peter's cousin in her books. Potter loved sketching Benjamin, too. In 1890, after a publisher purchased some of her sketchers of Benjamin, she decided to reward him with some hemp seeds. "The consequence being that when I wanted to draw him next morning he was intoxicated and wholly unmanageable," she later wrote in her diary.
4. Potter's House was essentially a menagerie.
Potter kept a whole host of pets in her schoolroom at home—rabbits, hedgehogs, frogs, and mice. She would capture wild mice and let them run loose. When she needed to recapture them she would shake a handkerchief until the wild mice would emerge to fight the imagined foe and promptly be scooped up and caged. When her brother Bertram went off to boarding school he left a pair of long-eared pet bats behind. The animals proved difficult to care for so Potter set one free, but the other, a rarer specimen, she dispatched with chloroform then set about stuffing for her collection.
5. Peter Rabbit wasn't an immediate success.
Potter self-published the Tale of Peter Rabbit in 1901, funding the print run of 250 herself after being turned down by several commercial publishers. In 1902 the book was republished by Frederick Warne & Co after Potter agreed to redo her black-and-white illustrations in color. By the end of its first year in print, it was in so much demand it had to be reprinted six times.
6. Beatrix Potter understood the power of merchandising.
In 1903 Potter, recognizing the merchandising opportunities offered by her success, made her own Peter Rabbit doll, which she registered at the Patent Office. A Peter Rabbit board game and wallpaper were also produced in her lifetime.
7. Potter was a naturalist at a time when most women weren't.
Potter was fascinated by nature and was constantly recording the world around her in her drawings. Potter was especially interested in fungi and became an accomplished scientific illustrator, going on to write a paper, "On the Germination of the Spores of Agaricineae, " proposing her own theory for how fungi spores reproduced. The paper was presented on Potter's behalf by the Assistant Director of Kew Gardens at a meeting of the Linnean Society on April 1, 1897, which Potter was unable to attend because at that time women were not allowed at meetings of the all-male Linnean Society—even if their work was deemed good enough to be presented.
8. Potter sometimes wrote in secret code.
Between 1881 and 1897 Potter kept a journal in which she jotted down her private thoughts in a secret code. This code was so fiendishly difficult it was not cracked and translated until 1958.
9. Potter was reportedly a disappointment to her mom.
Despite her huge success, Potter was something of a disappointment to her mother, who had wanted a daughter to accompany her on social calls and make an advantageous marriage. In 1905 Potter accepted the marriage proposal of her publisher Norman Warne. However, her parents were very against the match as they did not consider him good enough for their daughter, and refused to allow the engagement to be made public. Unfortunately, Warne died of leukemia just a few weeks after the engagement. Potter did eventually marry, at age 47, to a solicitor and kindred spirit, William Heelis.
10. Potter wrote much more than you. (Probably.)
Potter was a prolific writer, producing between two and three stories every year, ultimately writing 28 books in total, including The Tale of Squirrel Nutkin , The Tale of Mrs Tiggy Winkle , and The Tale of Mr. Jeremy Fisher . Potter's stories have been translated into 35 different languages and sold over 100 million copies combined.
11. Potter asked that one of her books not be published in England.
In 1926 Potter published a longer work, The Fairy Caravan. It was at first only published in America because Potter felt it was too autobiographical to be published in England during her lifetime. (She also told her English publishers that it wasn't as good as her other work and felt it wouldn't be well-received). Nine years after her death in 1943, the book was finally released in the UK.
12. Potter's later books had to be cobbled together from early drawings.
As her eyesight diminished it became harder and harder for Potter to produce the beautiful drawings that characterized her work. As a result many of her later books were pieced together from earlier drawings in her vast collection of sketchbooks. The Tale of Little Pig Robinson was Potter's last picture book, published in 1930.
13. A lost work of Potter's was published in 2016.
A lost Potter story, The Tale of Kitty-in-Boots , was rediscovered in 2013 and published in summer 2016. Publisher Jo Hanks found references to the story in an out-of-print biography of Potter and so went searching through the writer's archive at the Victoria and Albert Museum in London. Hanks discovered a sketch of the kitty in question, plus a rough layout of the unedited manuscript. The story will be published with supplementary illustrations by Quentin Blake.
14. Potter was an accomplished sheep farmer.
Potter was an award-winning sheep farmer and in 1943 was the first woman elected President of the Herdwick Sheep Breeders' Association.
15. You can visit hill top, Potter's home.
When Potter died in 1943 at the age of 77, she left 14 farms and 4000 acres of land in the Lake District to Britain's National Trust, ensuring the beloved landscape that inspired her work would be preserved. The Trust opened her house, Hill Top, which she bought in 1905, to the public in 1946.