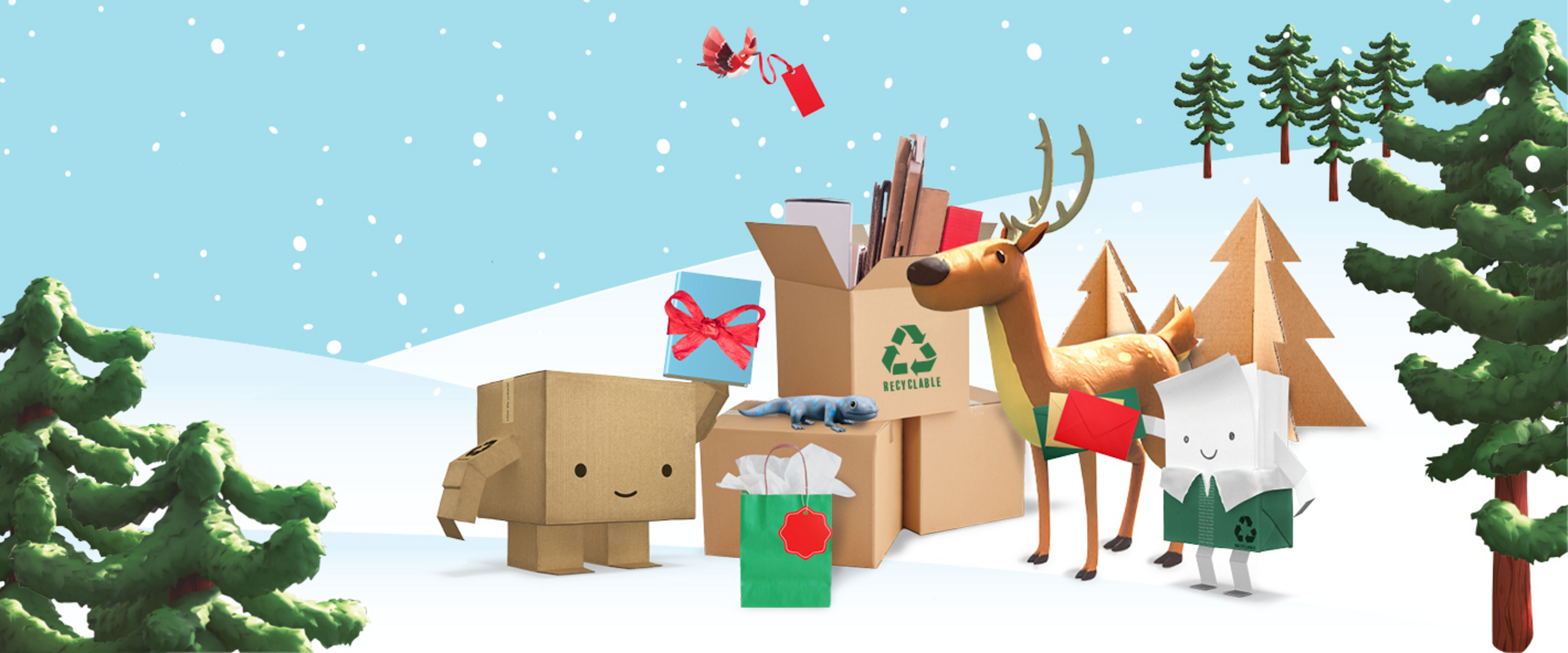 With the holiday season in full swing, you may be looking for ways to celebrate more sustainably this year. Luckily, using paper is a simple, effective way to be a force for nature – it comes from a plant-based, renewable resource that can be recycled up to seven times!
To help spark some creativity that is both fun and sustainable for the whole family, we created a guide, "Celebrate the Holidays Sustainably with Paper," that includes a list of tips with easy, practical ways to recycle and reuse paper and paper-based products to make your holidays even more sustainable this year.
1) Turn a shipping box into a holiday recycling bin. Boxes from online delivery orders can be transformed into their own recycling bins. Place them strategically around the house to encourage easy recycling.
2) Send guests home with paper containers for the holidays. Paper to-go containers (and other products like paper baking pans and paper cake molds) are all made from a renewable source. And if you're ordering pizza instead, recycle the pizza boxes – even with a little stuck on cheese and grease!
3) Celebrate reading, writing, puzzling and doodling. Gift versatile and sustainable paper-based gifts, like books, board games, puzzles or journals for friends and family.
4) Turn cardboard boxes into game boards, a kid's fort and more. Shipping appliance boxes can be a better present than the gifts that come inside when you turn them into hideaways or racing cars.
5) Protect gifts and ornaments with a soft cushion of paper. Cushion gifts that are fragile or being shipped by using festive paper-based filler options like recyclable tissue paper, crinkle paper or kraft paper.
6) Choosing the perfect card. Avoid ones with glitter or made from photo paper; otherwise, paper cards and envelopes are recyclable. No need to worry about the stamps, either!
7) Wrap gifts with earth-friendly style. To guarantee your wrapping paper is recyclable, choose brown kraft paper or paper without glitter or foils. A rule of thumb: if you can scrunch it in a tight ball, it's paper-based and recyclable!
Choosing and recycling paper is not only critical for reducing holiday waste, but it is also a vital component of keeping U.S. forests growing and healthy. Download our recycling "cheat sheet" for a general guide on what paper products to recycle. As always, be sure to check your community's recycling guidelines and visit our holiday page to get more tips for how to celebrate the holidays sustainably.