After graduating from The University of Michigan - Ann Arbor with a degree in Graphic Design, Cary moved to Chicago and honed his skills at both ad agencies and design firms alike before leaving to launch his own creative studio — Z Factory. After many years of helping clients turn their own ideas into business realities, Cary decided it was time to create a product himself. And thus was born — Maskerdoodles.
Q: What inspired you to create Maskerdoodles?
A: As the Age of Selfies and Social Media began to explode, I found myself looking at photos of people posing with photo props and all that I could ever see were the cheap wooden sticks that held them up. "Why do you have to spoil a fun photo with these wooden sticks?" I would always think to myself. So I decided I would do something about it and eliminate them from both the equation and the image.



Q: Do you design each mask yourself? If so, can you tell us how you come up with each design?
A: I do! I'm a graphic designer and sometimes illustrator, so it really enables me draw on my own skillset to develop some highly-creative and fun products. I've been doing it for clients for so many years… it felt like it was time to do it for myself.



Q: Where do you draw your inspiration from (for your mask designs)?
A: It really depends upon the Collection I am looking to develop. The theme may be initially easy – like Oktoberfest, for example – which allows me to research related imagery and determine what accents would be fun to see in someone's social media feed. There are so many more great possibilities out there… I just need time to tackle them!



Q: After getting inspired, what does your design process look like? (sketch it out, etc)
A: I had a recent Instagram post that addresses this very process. It always starts with a sketch. ALWAYS. I just feel most comfortable with a pencil and a spiral pad or a clean sheet of paper in hand. (And a good eraser.) Once I have some concepts that I like, I scan them and start developing them further in Adobe Illustrator. Next, there are a series of color outputs made to test the shape and fit, and to mark-up for additional refinements. Then they become a part of the full collection and are sent off to my print partner for final production.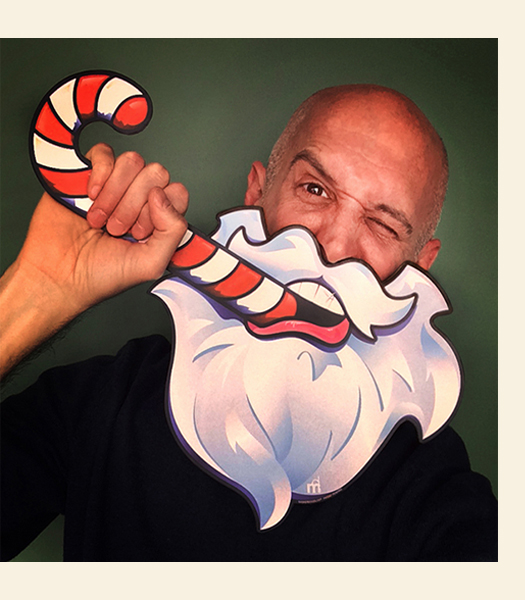 Q: Why do you choose to use paper for your masks?
A: The credit here really goes to a good friend of mine who coordinates many of the City of Chicago's most iconic festivals. He educated me to the need for event planners to consider the amount of waste that can result from these kinds of large-scale events, and a recyclable paper product seemed to be the perfect solution. I spent a LOT of time researching and sampling substrates for a superior print finish, durability and 100% recyclability – and conVerd board became exactly what I needed. The Oktoberfest Collection has been my first step toward developing a responsible, customizable, and high-volume product line that could be marketed to cities around the country who hold such celebrations.



Q: Of the Maskerdoodle collections, which one is your favorite and why?
A: Arrrgh… you're asking me to name a favorite of all my children?? I guess I would have to say it's the Holiday Collection. They were the very first masks I ever created, back when they were individually hand-painted onto matboard… and they also appear in my earliest photos with family and friends.



Q: What can we expect for the future of Maskerdoodles?
A: With any luck, you'll be hearing WAY more about them. While I've had pop-up shops in previous years that sold individual collections for a limited sales window, I'm really still in my infancy of being a full-blown online business. I've focused on a few key collections thus far, but have a spiral sketchbook FULL of fun additions just waiting to become realities. And I'm really looking forward to partnering with businesses and organizations who might be looking to have custom designs developed for trade shows, corporate events and galas.



Q: How do customers react to your product?
A: With big smiles usually. And that's really all I've ever wanted. That's why one of my marketing messages is to "Make more fun." Because who doesn't want to help people do that?